Introducing Cisco DNA Spaces MarketPlace App – HibouAir Lite
March 4, 2022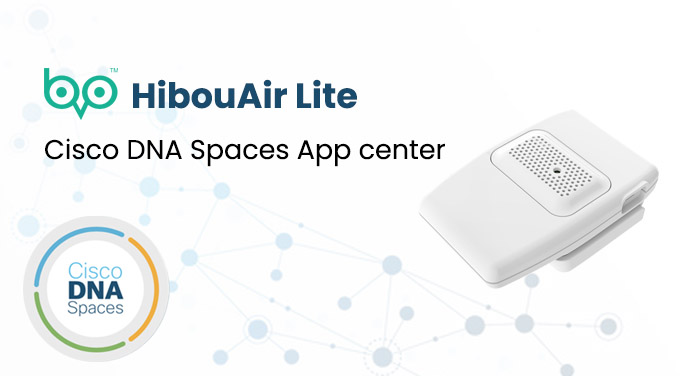 Sollentuna, Sweden – March 04, 2022, Smart Sensor Devices today released a new app called HiboiAir Lite to monitor HibouAir sensors – an air quality monitoring solution built on the Cisco DNA Spaces platform.
It is now easier than ever to integrate the HibouAir with Cisco DNA Spaces. DNA Spaces users can receive real-time air quality data from the Cisco Platform by activating the HibouAir Lite App from the DNA Spaces MarketPlace. Once connected, data will immediately be received via the HibouAir Lite Platform.
"Cisco is both our technical partner and key channel partner for HibouAir, so we're very much focused on extending our integration with DNA Spaces platform further. This is just a first step." said Axel Hammar, CEO of Smart Sensor Devices.
How to Connect HibouAir to DNA Spaces
Step 1: Login to DNA Spaces
Step 2: Sign Up & OnBoarding
Step 3: Go to app center and search for HibouAir Lite
Step 4: Follow the steps to activate HibouAir Lite app.
Step 5: Create an account if you don't have one.
Login / register to access the app feature.
Your app should be activated after this step.
Smart Sensor Devices is a Swedish company working globally with the latest IoT solutions. It is located in Stockholm and works with production partners in Asia on a daily basis. Smart Sensor Devices proudly offers one of the market's smallest, most cost-effective, and energy-efficient platforms for your IoT products customized for your company's needs. A one-stop product manufacturing and management offering.
Cisco DNA Spaces is a powerful, end-to-end, indoor location services cloud platform that provides wireless customers with rich location-based services. It delivers the industry's most scalable location-based platform while being compatible across existing Cisco Aironet®, Cisco Catalyst®, and Cisco Meraki® infrastructure, as well as select Cisco Collaboration endpoints, with flexible deployment options. DNA Spaces offers a pre-integrated IoT Device ecosystem available in the IoT Device Marketplace, making DNA Spaces the only true out-of-the-box end-to-end IoT experience in the enterprise market.
Share this post on :
Facebook
Twitter
LinkedIn