Business in India (Air Quality Monitoring System)
February 24, 2022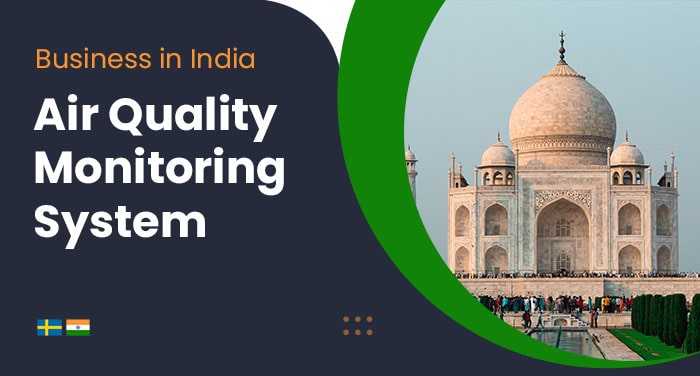 We are glad to share, a few months ago SMART SENSOR DEVICES IN SWEDEN AB decided to expand its business in India with the help of Business Sweden consultancy in India. We have successfully managed to generate good business distributors who are helping us to introduce our HibouAir CO2 sensors and HibouAir PM sensors in India.
After a complete survey we have concluded that our product "Air Quality Monitoring System" has so much potential and needs to improve the air quality in India.
According to the International Monetary Fund (IMF), India is the sixth-largest economy by market exchange rates and the third-largest by purchasing power parity (PPP). Due to growing urbanization, automation and mobility, the undesirable particles and airborne pathogens (bacteria, viruses, etc.) have also increased their presence in the air. Air quality within our homes, offices and other indoor environments is a major topic of interest, especially since the emergence of Covid-19.
This is our privilege that we got a chance to help Indian society by providing our air quality monitoring system.
There are many people who are dying in India because of polluted air. Indian air pollution is referred to as the silent and fifth largest killer across the globe. Most of the people are dying from lungs failure and asthma.
As per WHO case study: The WHO study said a total of 101,788 deaths under the age of five — 54,893 girls and 46,895 boys — in 2016 were reported due to effects of air pollution in India.
Our technical team has been working on it for the last many months to finalize the best components in our devices which provides accurate information of our surrounding environment.
SMART SENSORS DEVICES IN SWEDEN AB, Air quality monitoring System and services focusing on this growing need of continuously measuring air quality in the indoor spaces inhabited by us, our colleagues and our families. The first step towards improving air quality is to measure it accurately and monitor it on site or even remotely. To address such needs, we offer affordable devices that with simple setup provide relevant data in real time for timely intervention, if required. Our devices provide not only the concentration of different elements in the air such as CO2, particulate matter (PM1, PM2,5 and PM10) and volatile organic compounds (VOC) but also the other parameters such as humidity, temperature, atmospheric pressure & light level that affect the ambient environment around us.
How does our air quality monitoring system work?
To maintain and control the air quality, we have installed sensors which detect a specific amount of a specific contribution (some particular pollutant) and convert that information into a quantifiable signal to transmit it electronically. The rise of the IoT ("Internet of Things") and the digitization of home automation have led to smart and connected sensors for measuring air quality.
We believe that our products have the potential and a bigger need to further improve the lives of Indian people by giving them the possibility to monitor and influence their environment.
We are looking forward to having new business partners who could become a part of our business journey to India.
Share this post on :
Facebook
Twitter
LinkedIn