Custom IoT Solutions
The eco-friendly IoT connected notification system that install in seconds and connects to your smartphone. This plug & play device will simply inform you if intrusion occurs and automatically activates the built in camera. The motion sensor does not only detect movement and vibrations, but also measures the light intensity, ambient pressure and humidity in a room. The main gateway is powered via a micro USB, connected to an external power bank accessory. The sensors are powered on replaceble coin cell batteries. All sensors and camera data can be stored at AWS cloud or your smartphone.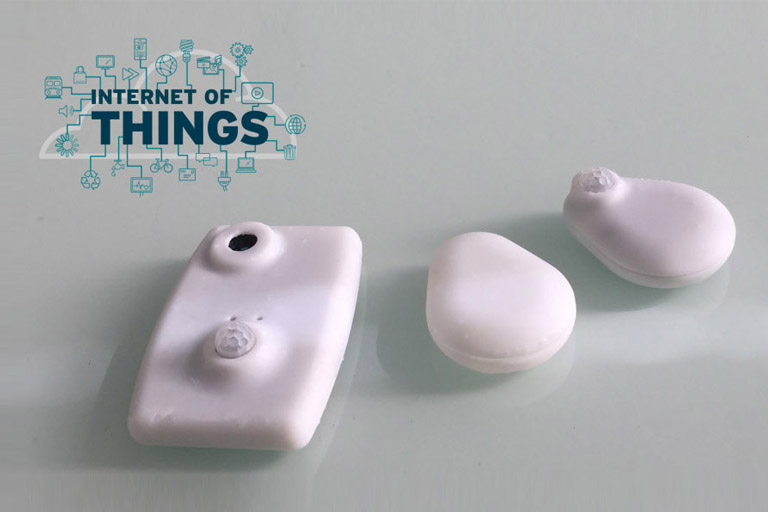 Contact us if you are looking to implement custom IoT Platform notification system.
 
Gateway Pro
Gateway Lite
PIR sensor
TILT sensor
ROLES
Wifi Client Bluetooth Master and Peripheral
Wifi Client Bluetooth Master and Peripheral
Bluetooth Peripheral
Bluetooth Peripheral
SECURITY
X.509 certificate
X.509 certificate
 
 
CONNECTIVITY
802.11n (2,4 GHz) Wi-Fi , Bluetooth 4.2
802.11n (2,4 GHz) Wi-Fi , Bluetooth 4.2
Bluetooth 4.2
Bluetooth 4.2
POWER
Micro USB
Micro USB
CR2450
CR2450
CAMERA
Auto focus 2Mpixels
N/A
N/A
N/A
SENSORS
Motion sensor TILT sensor Humidity Temperature Pressure
TILT sensor Humidity Temperature Pressure
Motion sensor
TILT sensor
MECHANICAL
73,2 mm (L) , 50 mm (W) 12,4 mm (D)
73,2 mm (L) , 50 mm (W),12,4 mm (D)
48.0 mm (L) , 37.5 mm (W) ,14 mm (D)
48.0 mm (L) , 37.5 mm (W) , 14 mm (D)
ENVIRONMENTAL
Temperature:
0 to +60 C
Temperature:
0 to +60 C
Temperature:
-10 to +60 C
Temperature:
-10 to +60 C
MOUNTING
Adhesive sticker or wall mounted holder
Adhesive sticker or wall mounted holder
Adhesive sticker
Adhesive sticker
CASE MATERIAL
Disposable Bio grade
Disposable Bio grade
Disposable Bio grade
Disposable Bio grade
CERTIFICATION
FCC & CE
FCC & CE
FCC & CE
FCC & CE
COLORS
White,
Black
White,
Black
White,
Black
White,
Black