Smart Sensor Devices AB has launched HibouAir Indoor air quality monitoring standalone solution
May 6, 2022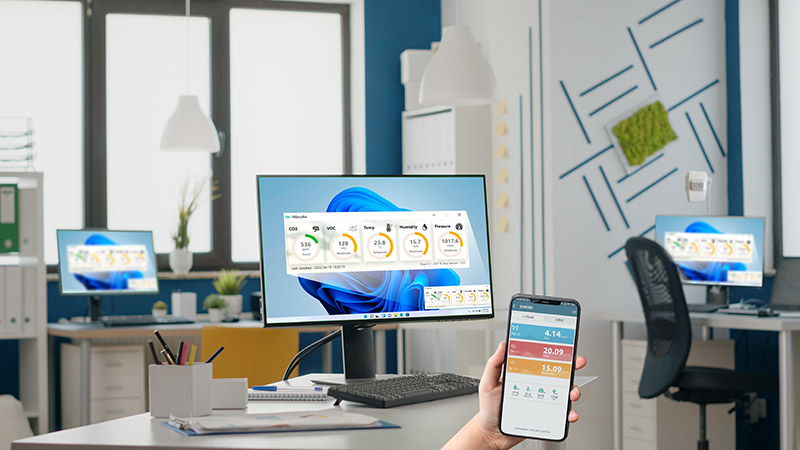 Leading sensor technology company in Europe, Smart Sensor Devices in Sweden AB is to add a new indoor air quality monitoring standalone solution to its wide range of products.
This new monitoring solution is easy to setup and suitable for office, home, gym, greenhouse and other indoor places with wide range of applications. It requires no WIFI, gateway or cloud connectivity.
The sensor can stores air quality data for the last 7 days. Real-time air quality data from HibouAir can be accessed by desktop or mobile application.
The USB Dongle that is included in the solution is used to get air quality data by using the desktop application in different workstations at the same time. The HibouAir sensor device needs to be within the range of the computer (distance can be up to 80 meters).
There are two variants of this monitoring solution, CO2 and PM. The HibouAir sensor, which is built around the company's new multi-sensor technology, will measure levels of CO2 or PM based on the sensor type, volatile organic compounds (VOC) , as well as temperature , humidity ,pressure ambient light level.
High levels of carbon dioxide can have a variety of health impacts, including dizziness, restlessness, increased heart rate and elevated blood pressure.
Particulate matter consists of microscopic liquid droplets that are so small they can be inhaled, potentially causing health problems – for example, dust, pollen, mould and metals. HibouAir sensor monitors the very smallest particles (PM 1.0, PM 2.5 and PM 10).
Volatile organic compounds can be found in things like paints, solvents, aerosols, disinfectants and adhesives. Exposure can cause headaches, dizziness, nausea and coughing.
The temperature and humidity elements of the sensor will also help to ensure environments remain safe and comfortable.
Axel Hammar, CEO of Smart Sensor Devices in Sweden AB, said: "We're really excited about the opportunities that this new solution will bring. Bringing together all of these different air quality measures in one sensor without any WIFI, gateway or cloud dependency, means that employers can easily see their surrounding air quality on their desktop or mobile application. Not only will it help to keep staff safe and healthy but it will also make workplaces a more comfortable and enjoyable place to be."
To know more about this solution, please visit HibouAir – Indoor air quality monitoring soltuion .
Share this post on :
Facebook
Twitter
LinkedIn